☎️ + 33 (0)4 50 72 14 37
La Plage de La Beunaz is open in the afternoons from 1.30 pm


ONLY

for

unsupervised swimming

and the tree-top adventure course.
Plage de La Beunaz in St-Paul-en-Chablais
This natural and temperate mountain lake, situated at an altitude of 900 m, offers an authentic setting, ideal for enjoying a well-equipped recreational area.
Locals' favorite spot, La Beunaz Beach offers a variety of activities for all age groups, from adventure and thrill-seekers to those who enjoy relaxing and picnic.
Activities at the Plage de La Beunaz
Everyone in the water!
You won't resist the lake's call !
To satisfy your furious and irresistible desire to dip your feet in, to dive headfirst into its temperate water or to float peacefully on the surface, the Plage de La Beunaz offers you numerous facilities that promise wet but fun and joyful moments.
Supervised swimming area
Children's playground with paddling pool
Swimming pool fed by lake water
Two diving boards of different heights
Inflatable iceberg in the middle of the lake
Buoy slide
Stand-up Paddle, Canoe and Pedal boat
Telebeune, the water zip line.
Swimming lessons can be given by our lifeguards who also offer aqua gym sessions twice a week.
💥 NEW : The Wibit 💥
The best of aquatic activity 💦, the Wibit inflatable aquatic course is a course of floating obstacles on water, composed of about twenty inflatable modules. Launch yourself on the trampolines, slides, climbing wall, beams and bridges, equipped with life jackets.
On dry land!
More comfortable with your feet on the grass?
There is plenty to do too! At the the Plage de La Beunaz, you will find a range of activities that will satisfy both young and old :
Volleyball court
Petanque court
Inflatable structures
Trampolines
Ping pong table
Barefoot path and artificial waterfall

 

Small wooden house to build
In the air!
Let your adventurer's soul speak for itself and go for the tree climbing trail at the Indiana Parc in La Beunaz.
Several trails of progressive levels (blue, red, black) are accessible, equipped with ladders, footbridges, zip lines and other playful passages that will make you cross the woods from the top.
Indiana P'tit Kid: From 2 y.o. Less than 105cm.
Indiana Kid: From 105cm to 135cm, (approximately around 4 – 8 y.o.).
Indiana Grand Parcours: From 135cm (more than 8 y.o. approximately).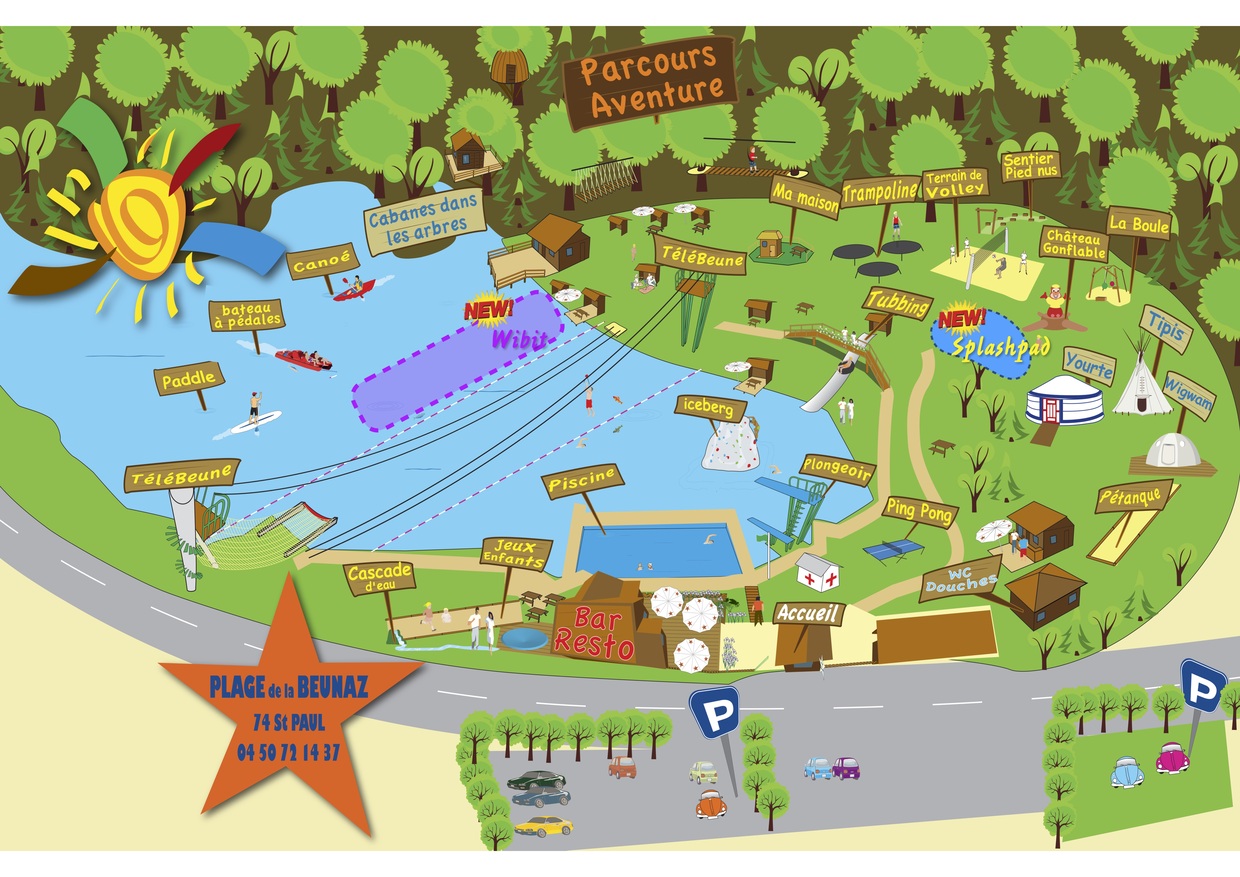 Resting spots for hire
Planning to spend a pleasant day at the Plage de La Beunaz?
You'll love our pontoons and wooden shelters available for hire, so you can enjoy the extra comfort of a reserved area with your family or friends!
Terrace: Furnished terrace with table, chairs, parasols and shade sail.
Wooden shelters: Small open chalet with deckchairs and table on grassed field .
« Bubble » pontoon: Pontoon with deckchairs, sunbeds, tables and parasols by the water of the navigation area (without direct access to the swimming area).
Danielle's pontoon : furnished pontoon (table, deckchair, hammock, barbecue, parasols), by the swimming area with direct access to the water.
Case à Caza: Little chalet set on the lawn overlooking the lake, with a furnished terrace (table and benches, counter and deck chairs. Running water, electrical outlet and small fridge, barbecue, parasols).
(For barbecues, remember to bring your own charcoal!)
Unusual place to stay / accommodations
To extend the experience of the Plage de La Beunaz, unusual accommodations are available for a unique night under the stars, in the trees or in a teepee.
The tree house can accommodate up to 4 people (1 double bed and 2 single beds). At the edge of the forest, built several meters high and crossed by trees, the tree house offers a breathtaking view on the lake and the Dent d'Oche (2222m).
The wigwam can accommodate up to 2 people (1 double bed). This tent is set up on a terrace furnished with a picnic table outside.
The tipi can accommodate up to 10 people. This large Amerindian tent is 8 meters high and covers a 35m2 floor.
The yurt can accommodate up to 10 people on its 35m2 floor and 6 meters in diameter.